GLAM + GROUNDED LIFestylE MEMBERSHIP
Did you know that it's way easier to balance your chakras for a chic + radiant life that you know you're meant for, when you have a tribe of high-vibe chakra sisters cheering you on?
But you also know that all the woo-woo hippie stuff doesn't totally fit in with your rosé brunches and reality show obsession
You want a life that's both glamorous, AND grounded, and babe, you can have it all
Right now, you're dabbling in the spirituality, trying to make sense of it aLL
BUT YOU'RE FEELING STUCK, AND FAR FROM THAT "ALIGNMENT"THE GURUS ARE ALWAYS TALKING ABOUT
+ Your friends think you're a witch, so you feel isolated and secretly binge watch Abraham Hicks videos like it's a dirty little secret, then have no one to talk to about it
+ You wake up with a wine hangover on Sunday and see all these spiritual experts and gurus shaming you for drinking, and eating sugar, you just feel like you don't fit into this group either!
+ You can't seem to nail down that consistent meditation practice because how can you chill when you are constantly doing calculations in your head to make sure you can afford groceries, rent, that new dress you saw online, and a night out with the girls (How much does a round of skinny margaritas cost again?)
+ You have expensive taste and just can't understand how these girls online are rockin' Louis bags when you can barely afford the Urban Outfitters sale rack
+ You know you have a deeper purpose, and want to have a big empire one day, but have no idea what you have to offer and the Instagram-scroll-hole has you even more confused and unclear. "Do I want to be famous? Do I think famous people are evil? Do I want to have a business? Or are those people working too much?"
+ You wake up for work after hitting snooze about 76 times, slap some makeup on your face and whatever clothes smell clean enough, haul ass to Starbucks with the change you scrounged up from the couch cushions for a triple shot of espresso for that little kick and mega jitters, before a long day of pretending to care about your job, all while wondering, "How am I supposed to find the time and energy to balance my chakras when I have to get home, order Uber Eats, do laundry and pass out after a Bravo binge?
Imagine this life instead:
+ You wake up in the morning, sans alarm clock, in your zen, tidy home, and you're just feeling so damn grateful to spend the day with someone you love (yourself, because you're awesome)
+ You have a good hour of solo, self development time before work every day so you can meditate, sip your tea, and ritual so hard your demons can't even find you
+ Work no-longer feels like work, because you understand your purpose and have a mapped out plan to get there, stat, and with a lot of fun and excitement on your journey
+ Your chakras are so connected that you can manifest what you want, when you want, how you want, so you can see it, like it, want it, then get it
+ You take time throughout your day to check in with your spiritual besties who totally understand your woo-woo jargon. You hop on a Facetime with them and share all the miracles that have happened for you this week and what revelations came up in your meditation
+ You finally understand your purpose and live it every day. You know you are here to give love, receive love, and love yourself and that gratitude that comes from it all allows you to manifest a glam life because the Universe wants you to be rich AF
+ You are in love with your bank account and know that elevating your energy has created a life where you never have to "budget" when you can just make more money happen instead for that dream trip to Bali and that first class seat-upgrade
+ You're cooking a healthy dinner for your friends on any given Tuesday, sipping rosé (because you know your limits), and counting all your blessing before slipping on your fav, anthropology, silk night-gown, putting on your crystal infused face products and falling asleep peacefully before another amazing day
IT'S TIME TO TAP INTO THOSE CHAKRAS FOR THAT GLAM + GROUNDED LIFE, GIRL! SERIOUSLY!
Are you SO over slaving away for someone else's dreams when you don't even have a plan or path to your own desires? Do you KNOW you're meant for something bigger, but you can't seem to find the time or energy at the end of the day to activate the energy that moves YOU forward?
The Universe wants you to be abundant with love, money, radiance and designer bags.
A Glam + Grounded Life means accessing that wealthy energy, that already exists in your chakras, but is just clogged up with insecurities, past traumas, and maybe some evil spirits (we all have picked up a few of those along the way).
CHAKRA RITUALS AND PRACTICES ALLOWED ME TO ACCESS A LIFE WAY BETTER THAN I NEVER THOUGHT WAS POSSIBLE FOR MYSELF….
Hey, I'm Amber-Lee, your Spiritual BFF, Chakra Expert and Energy Coach who has supported THOUSANDS of women to create their most Glam + Grounded lives. I host a top rated podcast Chakra Girl Radio, I've been featured as a top influencer in Forbes and Entrepreneur Magazine, and I have created a Million Dollar business in just three years, ALL because I know what the heck I'm doing with my Chakras.
Life wasn't always this peachy…
Just over 3 years ago, when I worked in fashion, I was LIVING for the weekends. Binge drinking, binge shopping, serial dating - all ways of escaping the sucky reality I'd created for myself by following a path that WASN'T mine to follow!
I knew since the time I was a child that I was meant for a really wealthy and successful life, but I wasn't going to find it at the bottom of a tequila shot on a Tuesday night.
I had heard about manifesting and The Secret, and I dabbled in it a bit, but I knew that it wasn't that easy and that in order to access that ability to take my life and energy to a higher field of abundance, I had some shit to clear out!
I was told that I could lose weight at hot yoga so immediately signed up for their intro offer. One day I was late for class and had to go to a meditation class instead. I realized that I was only person in the class who could not sit still, and that I was swallowing every two seconds like a lunatic. I asked the teacher after class why that would be and she said it seemed I must have a throat chakra block.
I had never heard of Chakras, but immediately went home and Googled it, and it turned out that a blocked throat chakra meant I was not living my true, shocker. I found some practices and crystals that could clear the block, and within just a couple of weeks, not only was I able to sit in meditation without swallowing like a freak, I also started to get a clear vision of what my truth was.
Little did I know, I was on a spiritual path that would make me millionaire, and there was no looking back!
There were no Gurus in my day that rocked Gucci, so I felt like I was a "bad spiritual person" or that I couldn't have both. I remember I decided one day I wanted to be Buddhist. I bought a book from Indigo and decided within a couple of chapters that it wasn't for me because you're not supposed to have desires.
I decided to create my own belief system based on what my heart was calling for…spoiler alert: it was calling for Porsches, LV, first class travel, a perfect husband and beautiful home, but also for:
+ Truly loving myself
+ Waking up every day with a clear vision of my purpose and a path to get there
+ Having the time, space and energy to feel like I am living my life for myself, not for someone else to fulfill their dream
+ Rituals and practices that allowed me to access a deeper connect to my own energy and spirit
Once I opened up my energy, everything changed. I married my husband at a dream wedding in Italy, I manifested a ton of amazing friends, I have traveled all over the world meeting new people and having luxurious experiences, and I've made a ton of money doing it, because the Universe rewards you for high vibes!
Everyone's journey has its own path, and has a different purpose, but they follow the same structure. My journey brought me everything above, and so much more by simply unblocking my chakras, listening to my internal guidance system, accessing my purpose, and living it every day.
You can do the same…
INTRODUCING - CHAKRA GIRL GLAM + GROUNDED LIFE MEMBERSHIP
Your monthly resource for elevated vibes, and your spiritual tribe
Monthly LIVE Q + A WITH AMBER-LEE
Every month Amber-Lee is hosting a members only, live Q+A call where you can ask any questions and share in the energy of your new besties. The calls will also contain a mini-training and/or group ritual based on your needs.
online community of Spiritual BFFs
Connect with amazing Chakra Babes on the daily in our online community! Meet friends for life in this fab group of women and access Amber-Lee and her team for questions
The Chakra Babe Reading List
Get all of Amber-Lee's book recos for all stages of your spiritual journey to help you raise those vibes, amp up that mindset, and live your best life
Keep your daily rituals fresh + raise your vibes to new heights of glam. Every month, get meditations, clearing rituals, manifesting practices, tapping, journaling, kundalini kriyas, stretches, goddess devotions, altars and more
Members only, in-person meet-ups
We are holding 2 or more member events each year in the major cities, Vancouver, Toronto, New York, LA and you get VIP access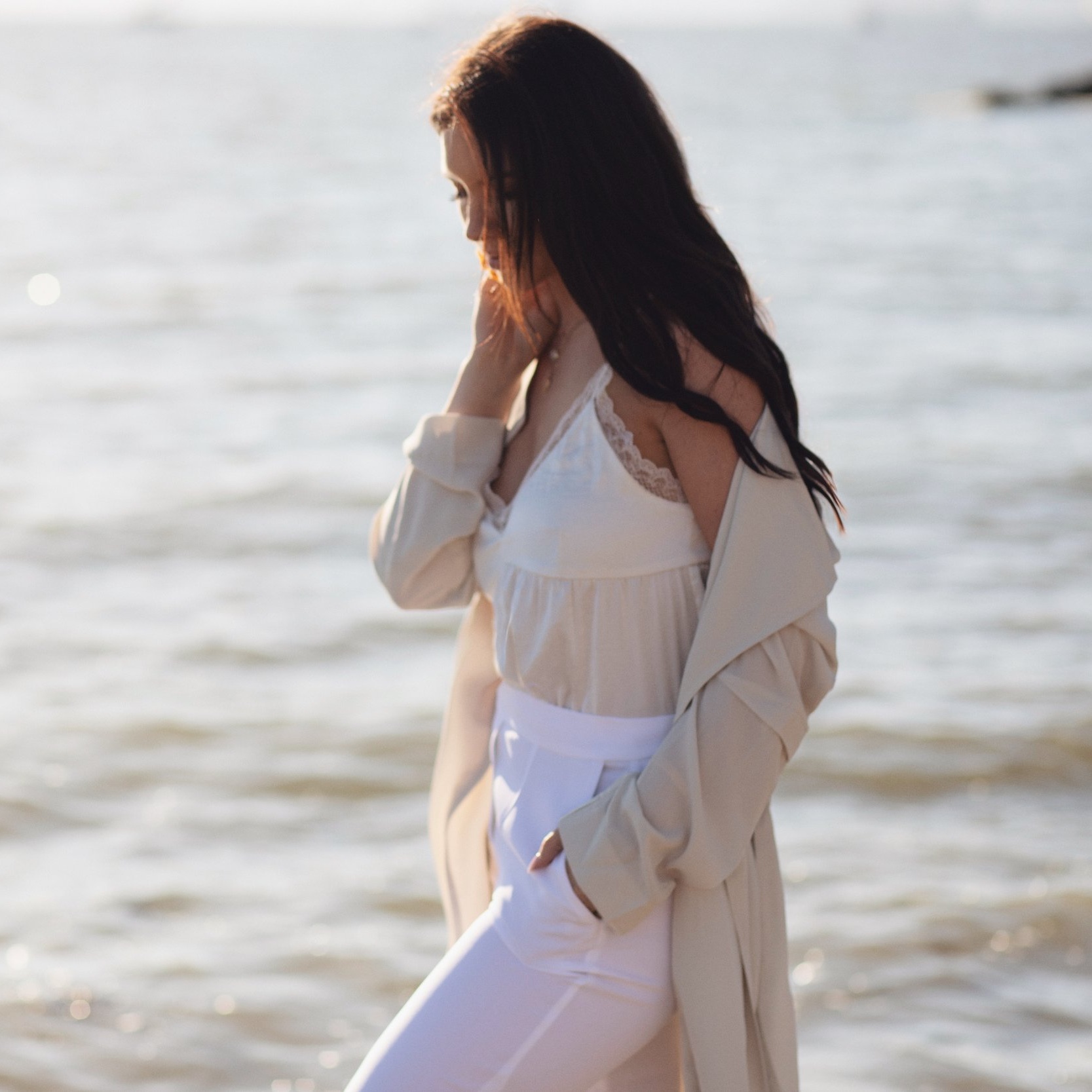 Glam + Grounded Life Orientation + Vision Planning Protocol
Each member gets access to a chakra overview and lifestyle planning technique that has changes hundreds of lives
monthly chakra Training for a glam + grounded life
Every month Amber-Lee is dropping a chakra training like n topics like, manifesting, money, beauty tips, finding your purpose, relationship, and living that glamorous life
Designated Accountability partner
Each month are teamed up with a new spiritual BFF to bond, connect, and stay accountable to the work + rituals
When you hit 6 or 12 months of membership, or purchase up-front, you get ALL the extras and VIP attention.
THIS IS NOT JUST A MEMBERSHIP - THIS IS AN ENERGETIC UP-LEVEL TO A NEW VERSION OF YOURSELF
YOUR FIRST CLASS BONUSES
IF YOU DON'T HAVE COMMITMENT ISSUES, YOU MIGHT AS WELL GET THE BONUSES
BONUS #1 (6 month memberships + annual memberships only)
Chakra and Crystals Guide:
Amber-Lee her curated a guide of the crystals that have changed her life, one chakra at a time. It's the perfect shopping life and reference and comes complete with a breakdown of what each crystal is for and how it will support you in manifesting a Glam + Grounded Life.
BONUS #2 (6 month memberships + annual memberships only)
YOUR PERSONAL glam + grounded Vision Plan Review VIDEO FROM AMBER-LEE:
Accountability, support and encouragement is the recipe for success so Amber-Lee is taking the time to review your Vision Plan and will give you feedback via a personal video, on how to get the life you want from a strategic standpoint, as well as an energetic standpoint.
The 6 month ladies will get a recorded review from Amber-Lee ($100 value) and the Annual ladies get a 15 min, live 1:1 call with Amber-Lee ($500 value), where you can ask her questions and soak up the glam + grounded vibes first hand
BONUS #3 (Annual memberships only)
get the VIP Experience at Member Events:
Who doesn't like the VIP treatment? Amber-Lee is committing time (and cocktails) to her VIP member clients at the member events, that is VIP only, so a more intimate girl-gang experience, taking on the town together.
Choose your own chakra adventure
HERE'S A TASTE OF OUR TRAINING SCHEDULE for the first few months!
MONTH 1 Chakras 101 - Access your Chakra Super powers.
MONTH 2 Root Chakra - Get grounded in your girl power + planning your glam life and finances
MONTH 3 Sacral Chakra - Access your passions and desires + releasing past shame and guilt
MONTH 4 Solar Plexus - Turn on the time + energy to slay the day
MONTH 5 Heart Chakra - Manifesting love from yourself and others
MONTH 6 Throat Chakra - Speaking and living your chic, radiant truth
MONTH 7 Third Eye Chakra - Accessing your intuition and your inner guidance system
MONTH 8 Crown Chakra - Raising the energetic bar in your life
DECIDE TODAY: "I do not, cannot, will not settle for anything less than what my heart is calling for. That's the way MY life is MEANT to be baby!"
Nothing is worse than when a woman pretends she doesn't want a chic live because she thinks she can't have it, because if you desire it, that means you're meant to have it
Amber-Lee has helped thousands of women elevate their chakras to reach that Glam + Grounded life.
Here's what a few had to say:
"Working with Amber-Lee has been a life-changing experience and one of the highlights of my life and I am not only a better business owner but a better person from working with her."

- Brittany Skala
What I love most about working with Amber-Lee is how her support has allowed me to grow in ways I never imagined possible. Working with her has been the best form of personal development

- Kelly Marcyniuk
"I've worked through blocks with money I didn't know I had and got to the root of my fear. I am so grateful for Amber-Lee and the supportive of the group."

- Laura Murphy
WHY NOT YOU?
Seriously. Those women that you see on Instagram with amazing lives…they got their by taking action and saying yes to that life.
YOU'VE GOT Q'S? I'VE GOT A'S!
ANSWERS TO YOUR MOST FREQUENTLY ASKED QUESTIONS
I don't have a business, or plan on starting one, can I still join?

YES, this program was design specifically for Chakra Babes at all levels, whether you have, want, don't want a business at all

What level of spirituality is this for?

Whether you are a chakra expert, or just getting started, the content is designed for women at all levels of their spiritual journey! Amber-Lee is sharing examples and tips from her everyday life that have worked for her in the beginning, and now as she elevates to greater and greater vibes!

Can I cancel my membership at any time?

Yes, you can cancel at any time with 30 days notice via email. If you purchase a 6 month or annual package, refunds will not be provided, but the content in this program is amazing, and you won't want to cancel!

How will the content be delivered?

You will have access to our membership dashboard, where the content is stored for you.

How often are the calls?

The calls happen every month, on the third Monday. If any changes are made to the schedule, you will be given ample notice.

What if I can't make it to the calls?

All calls are re-corded and as long as you are enrolled for that month you will have access to the recording.

What results can I expect from this membership?:
WHAT YOUR LIFE LOOK LIKE AFTER PARTICIPATING IN THE GLAM + GROUNDED LIFE MEMBERSHIP
IMAGINE THIS NEW, HIGH VIBE REALITY
+ You have a clear roadmap of what you want in life and know you deserve it and that it's possible for you
+ You start each day feeling amazing and high vibe because you know you're on the right track towards your mission
+ You are in-touch with your inner guidance system/spirit guides/intuition and will totally understand the cues that Universe is telling you
+ Miracles land for you every single day because you're open to them, from the best parking spots, to random money showing up, to the right people and opportunities entering your life
+ You start to look and feel more radiant, light and joyous because your energy body and physical body are finally in sync
+ WARNING: You may lose some toxic friends, a misaligned work environment, excess weight, addition and shame - but I mean, who wants that stuff anyways?
YOUR RADIANCE IS WAITING FOR YOU
I remember when I felt like I didn't even physically look the way I was supposed to look, that's how out of alignment I was. My skin was full, my eyes were droopy, I was gaining weight and I had no vibrancy.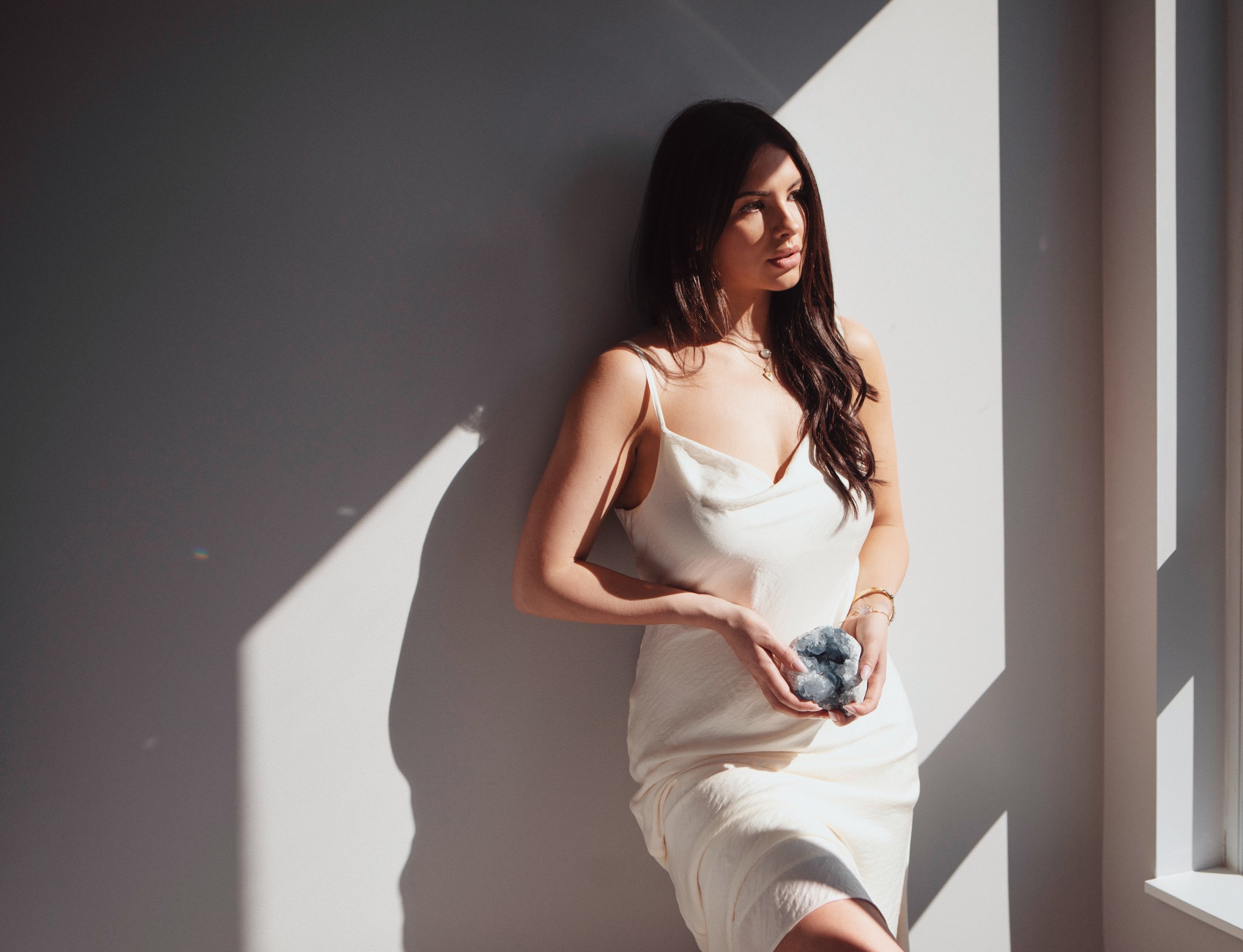 When your chakras are not aligned, neither are:
· your relationships
· your finances
· Your intuition
· Your beauty + radiance
· Your purpose
· Your health + wellness
When you align your chakras, you align your life, and when you align your life, everything falls into place.
It's actually a lot easier, and takes a lot less time and effort than you think…
It just requires intention. Joining the Glam + Grounded Life Membership is you telling the Universe that
· You are ready to change your life
· Your are ready for more money
· You are ready for a deeper meaning and purpose
· You are ready for high vibe people to enter your life
· You are ready for that glamour you've been day-dreaming about and you are taking action to make it happen.
Manifesting is NOTHING without action and to be honest I would be nowhere if I didn't get the support on this journey.
I know you deserve the life you want, and I know it can happen if you are willing to make it a priority.
Let's elevate your vibes together!
Still Have Questions?
email us at support@chakragirlco.com + WE'VE GOT YOU COVERED!